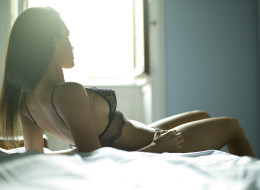 Shopping for lingerie doesn't just happen around Valentine's Day, nope, ladies want to wear sexy underwear all year round.
Now, we're aware that it can be a bit overwhelming to head to a store to try on silk sheer panties, garter belts, lace-up bustiers and corsets. Trust us: we've tried it and have always come away confused and unsure about what we're actually buying.
That's why we scoured the Internet for the top 10 lingerie stores to shop online in Canada which will save you the trouble of having to ask the salesperson, "um, where exactly does this go?".
Check out our picks below:
Butterfly Collection
This online shop specializes in women who have cup sizes DD-K and also carry maternity underwear. Guess what? The lingerie actually looks sexy while providing plenty of support. The company states, "we understand the unique needs, wants and frustrations of full bust women. Our collection includes balconettes and plunges, strapless and sports bras, full coverage and nursing bras from the world's best full bust brands." Check them out here.
Lingerie Life
This online store is a fantasy lover's dream come true. Lingerie Life sorts its underwear by theme ("Bond Girl Gear," "Barely There Sheers," "Fishnet Frenzy") and gives you plenty of options for sexy lingerie that will fulfill your and your partner's needs. Check it out here.
Dreamwear.ca
The Canadian store features a wide variety of unique underwear that many retail don't stores carry. From fantasy costumes to bondage leather styles and even men's lingerie, you won't be stuck for options. Check it out here.
OhhhCanada.com
This store is known for its sex toys but it also carries tons of women's lingerie from babydoll sets and stockings to heart nipple pasties and lace bustiers. Why not buy a vibrator with your panties? Check it out here.
La Vie En Rose
Known as one of Canada's more upscale lingerie stores, La Vie En Rose carries beautifully-made underwear from silk and lace bustiers to naughty nighties and tasteful garter belts. So if you want to feel sexy but look elegant, this is the place for you. Check it out here.
LingerieCanada.com
This online store is a one-stop shop for all your lingerie needs. From hoisery and teddies to PVC and leather, you will have so many choices to pick from. Check it outhere.
La Senza
La Senza is a staple for Canadian women everywhere and there's a good reason: they sell affordable underwear and lingerie that is cute and sexy. Check it out here.
Forever Yours Lingerie
This store specializes in personalized bra fittings from cup sizes B to K. They stock the best products for women of all sizes whether petite or curvy and guarantee to make you look good when you're half-naked. Check them out here.
Victoria's Secret
Canadian women everywhere rejoiced when the American retailer opened up stores in Canada but now it's easier than ever to get their cute undies thanks to their online shop. Make like an Angel and check out their online shop here.
Eye Kandee Lingerie
"You deserve to be a princess" greets the Eye Kandee Lingerie customer on their website. With a statement like that, we're hooked, line and sinker. This online store serves up plenty of risqué underwear including shelf bras, bedazzled micro thongs and barely there mini dresses. Check it out here.