Are you getting married next year? Is planning your big day turning you into Bridezilla? Brides-to-be don't panic – use our 12-month guide to keep wedding stress at bay.
With wedding season well and truly upon us, we quizzed Quintessentially wedding planner Sophie McCorry Day on exactly what you need to think about over the coming year…
Read more at http://www.marieclaire.co.uk/blogs/543343/your-12-month-wedding-guide-1.html#piY3kzigWHPHft4e.99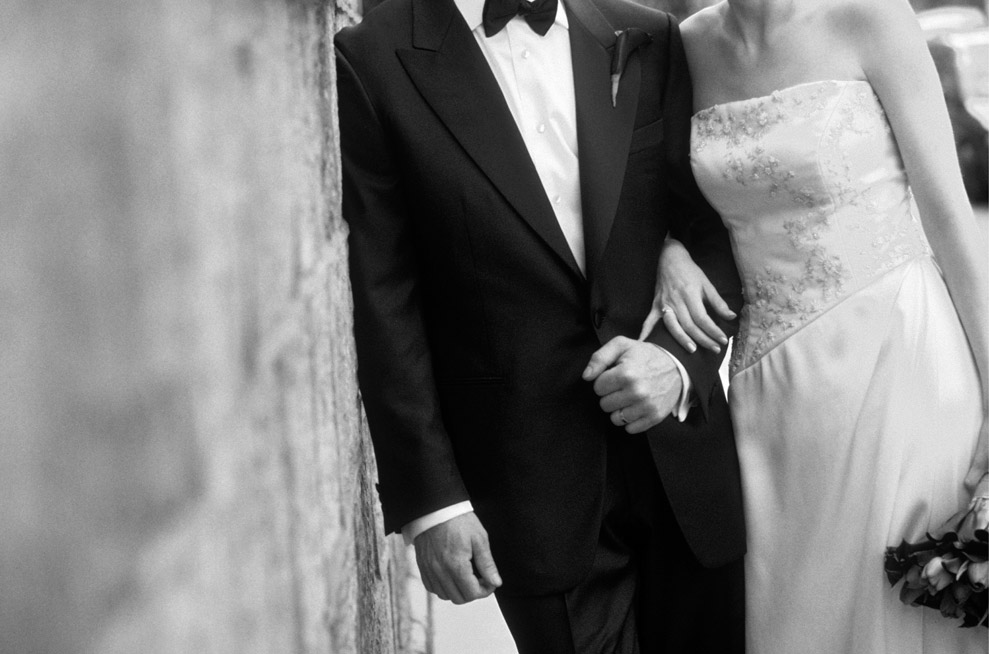 Before you start…
'From the very outset of your planning, remember that it will all be better (and easier) if you stick together,' Sophie explains. 'One of you, or even a close friend or relative, will likely turn out to be a maestro when it comes to haggling; the other will inevitably discover other assets when it comes to wedmin and creating the day you hope for – so play to your strongest suit.'
12 Months
Make the important decisions
'Start by asking each other the following questions and jotting down each other's instinctive reactions,' says Sophie. 'This should form the basis of your approach and narrow down the search for the perfect venue, dress (as you'll need to think about climate and suitable style), flowers, food, feel and general aesthetic.
Modern or historic?
Formal feast or relaxed supper?
Lace or silk?
Sea view or countryside
All your loved ones or precious ones
Holiday or home
Festive winter or summer sunshine?
11 Months
First things first. Find a wedding venue and set the date.

'Ideally, you should be looking at venues 9 – 12 months in advance,' says Sophie, 'but bear in mind that the hottest venues will likely be snapped up before even this, so you might have to come to a compromise. Fridays, Saturdays and Sundays are always more expensive, but a Monday or Thursday wedding is a good choice as most relatives and friends can take a little leave for a long weekend. Never worry about guests not coming if you opt for a weekday – most of the time, they will move mountains to come, especially if you give them ample notice.
'Go and see your venue at roughly the same time of year as you are planning your nuptials to get a feel for how it will look, how warm/cold it is and thus whether you are going to need to draft in heaters or air con. If you can't visit at a parallel time of year, ask for pictures of the venue taken in the same season as your intended date.'
When deciding on your venue? 'First and foremost, always go with your gut,' Sophie says. 'Often a deal can be done if it is over budget, or you can rejig other elements such as catering to give you wiggle room. If you are on a tight budget, look for a venue with lots of decorative detail and style already, so that you don't have to lay out lots of cash dressing the space. Equally, if you opt for what we call a 'dry hire', obtain reasonable quotes for drafting in furnishings, flooring and toilets etc. Blank canvases are lovely, but costly.'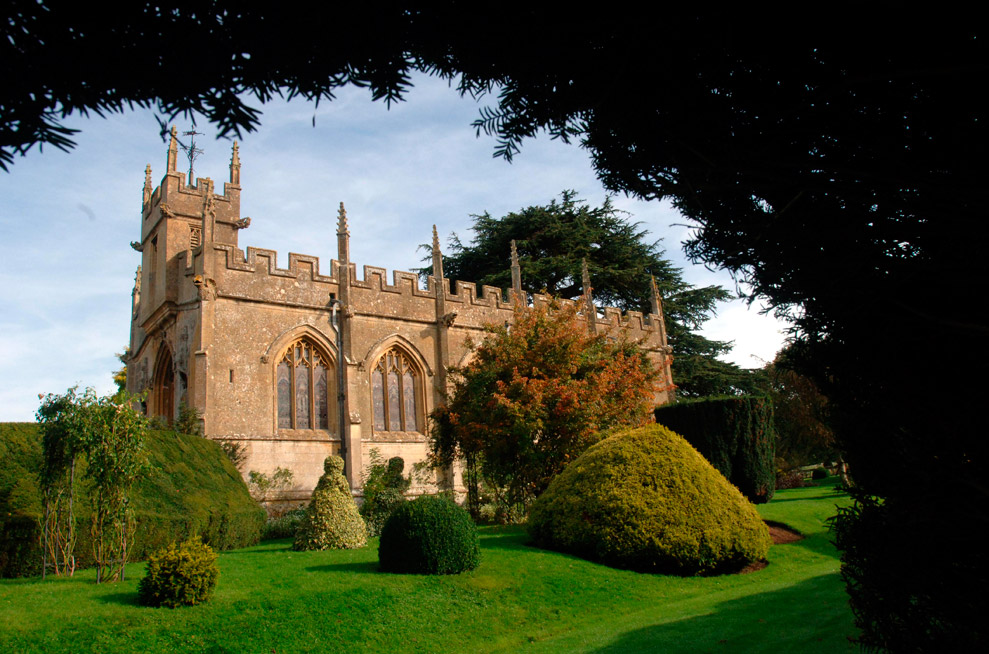 10 Months
Get shopping and choose your dress! 
'It might sound ludicrous, but given the sheer number of designers and beautiful gowns out there, trust us when we say it may take you many days of boutique trawling,' Sophie says. 'With this in mind, carry out extensive research on the internet to narrow down the type of dress you like (you're usually in one of two camps – meringue, or no-way-meringue) and the designers who excel at each.
'Always try on the wildcard, take along a friend or your mum, but only if they really know your style and will encourage you to go for the statement dress if that is truly you, rather than playing it safe,' she adds. 'This is your one time to really go all out, not to please other people.'
And finally? 'Don't be tempted to go on a drastic diet, your groom loves you as you are, and if you either a. manage to lose the weight or b. order the dress in the size you aspire to slim into, you will end up shelling out more for alterations. Expect 2 – 3 fittings for a made to measure dress or 'off the peg' sample dress. Couture and demi-couture may take anything up to 6 fittings over the three months leading up to your wedding.'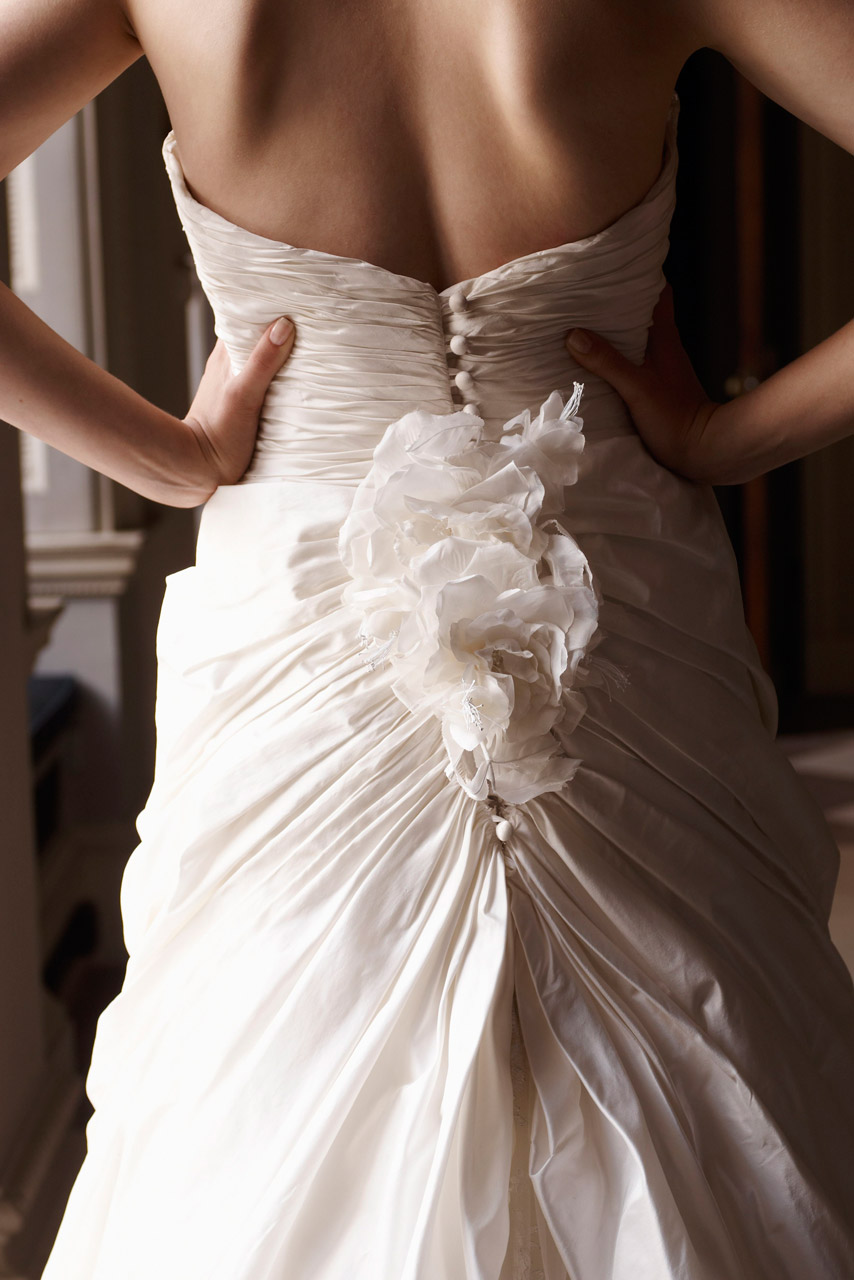 9 Months
Whittle down that guest list and finalise your wedding budget
'Unfortunately, there is no hard and fast breakdown of budgets – it is all relative to you and what are the most important elements to your big day,' says Sophie. 'Generally, the order of budget spend goes something like this: Venue, Catering, Flowers, Dress, Photography, Stationery, Attendants dress, Cake, Cars, décor.
'As a tip, never use the 'W' word when making initial enquiries to suppliers (as you will inevitably see the wedding mark-up), and be prudent – especially if you are not bankrolling your big day. When they come back to you with a price, have a script ready to hand if you are uncomfortable haggling or better yet put it in writing so you can hide behind emails! Try saying something like "I had a cost more in the region of £XX in mind…" going in with two thirds of your maximum offer and see if they will cut a deal.'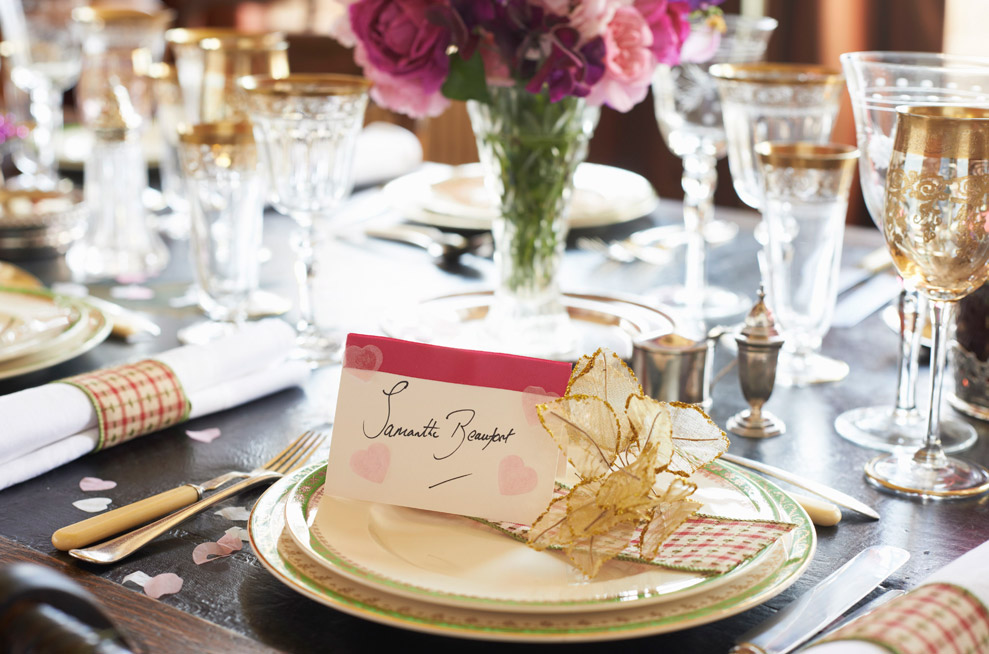 8 Months 
Gather brochures and recommendations for photographers, caterers, florists and musicians/DJs, decide, and book. Order you wedding stationary – invites, thank-you notes, place cards, menus, order of service and the like. 
'Now is the time for indulging in every wedding fantasy you've ever harboured,' says Sophie. 'The internet is a font of inspiration, moodboard ready images, beautiful blogs and dreamy design details. Set up a Pinterest page, immerse yourself in the wedding blog world and investigate brand, suppliers and designer's social media accounts for new ideas and who they are allied with.
'If you like the style of one particular dress designer, it follows that you're more likely to love the friends in the wedding world they rate (and it cuts out a lot of the leg work as you don't have to hunt around looking for the perfect match for your dress when it comes to flowers, for example – bonus!).'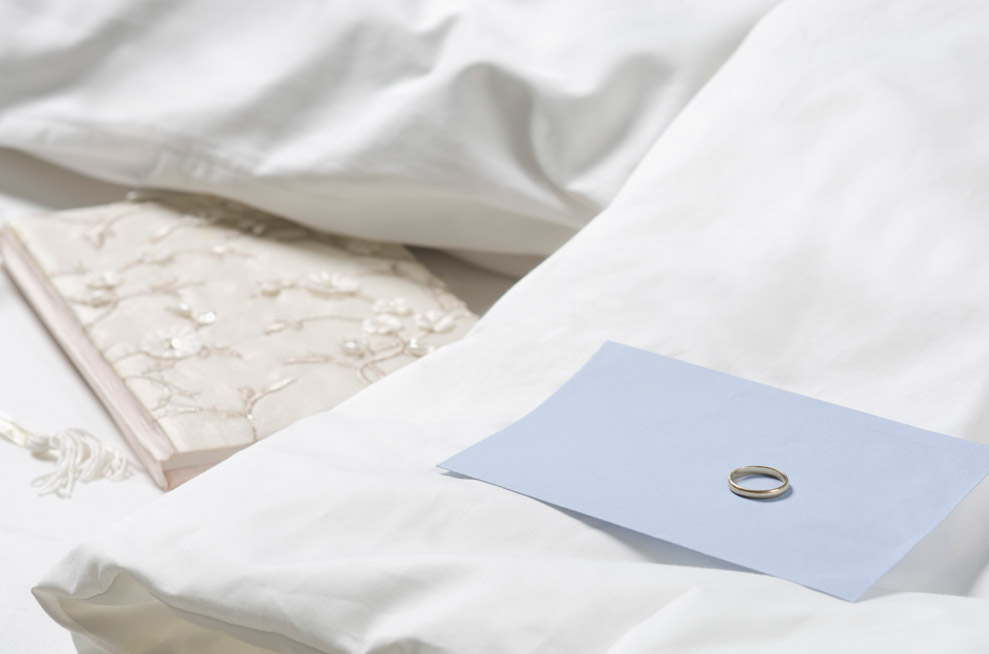 7 Months 
Plan and book your honeymoon, and choose those Bridesmaid dresses.
If you're changing your name, consider putting the application in soon as well, to ensure you have your passport ready before you go. 'Don't be afraid of cheekily asking if there are any discounts, extras or upgrades available – particularly when it comes to your honeymoon,' says Sophie.
Hit the shops to buy your bridesmaids' outfits and hire the groom, best man and ushers' outfits. This is also a good opportunity to buy their gifts, too. By now you should have chosen and had your first fitting for your own dress. Sophie ads: 'This will inform the style and colour palette of your maids' dresses, too.'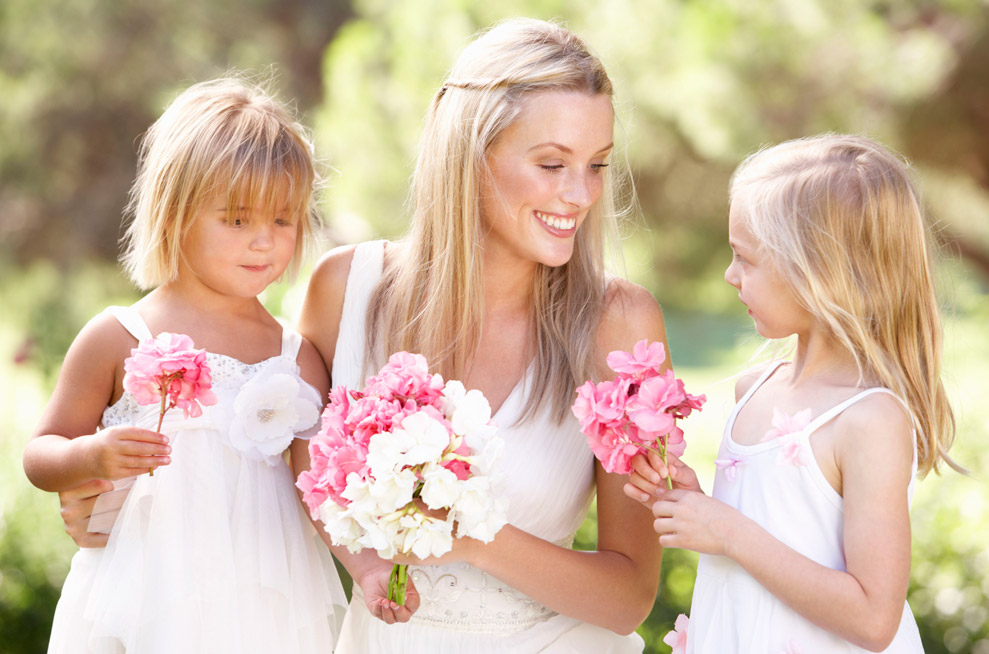 6 Months
Start that pre-wedding fitness regime
'By now, you should have booked your venue, registrar or religious celebrante (and chosen flights and accommodation if it is a destination wedding) booked a photographer and videographer and chosen your dress,' says Sophie.
'You should also have found your (adult) bridesmaids' dresses, sent out your save the dates chosen your florist and perfect flowers, sampled your menu, ordered your cake, ordered your groom's suit, and chosen your gift registry.
'Now is the time started a six month course of facials or any beauty/fitness regimes if you plan to, too.'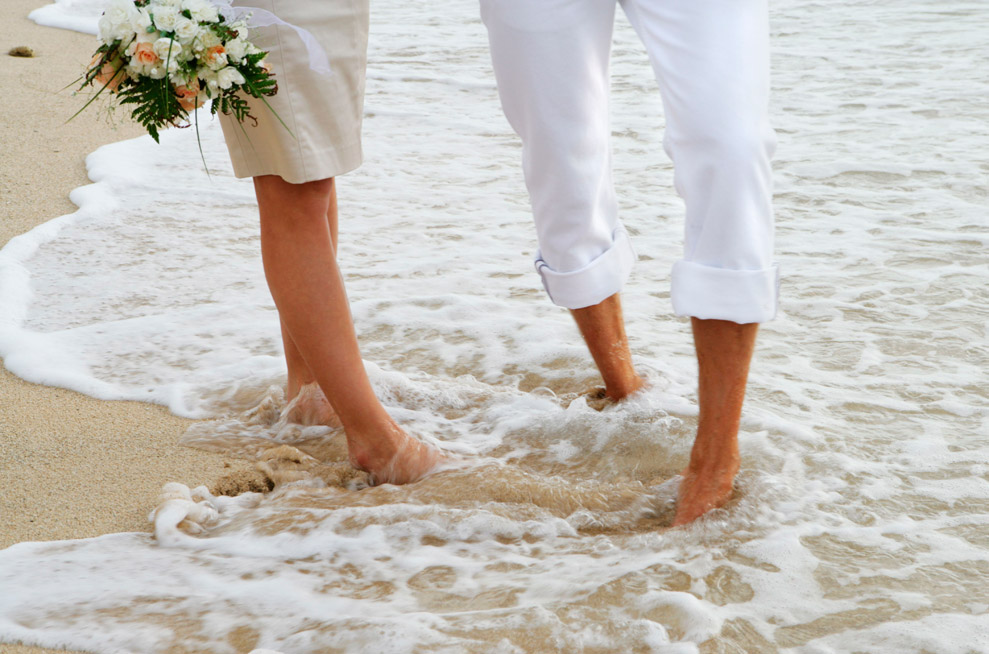 5 Months
Decide where you want your wedding list and begin choosing gifts. 
Remember to fill your list with a range of items, and be realistic about your guests' budget. If granny wants to treat you, that's great, but make sure you choose some smaller gifts, too.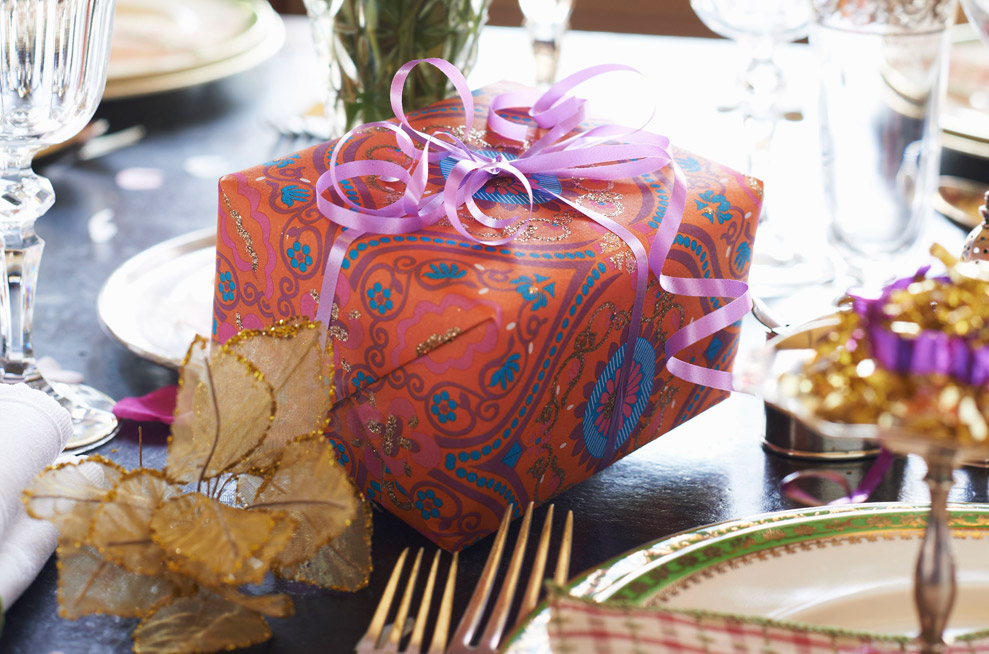 4 Months 
Order your wedding cake and book transport to and from the ceremony, reception and honeymoon. 
Feeling stretched? 'Remember that 77% of all weddings go over budget. Avoid being caught out by allowing yourselves a contingency fund (preferably an easy-access ISA so it can accrue some interest – and added spend),' says Sophie.
3 Months
Choose and order your wedding rings. Book your hairdresser and make up artist, and make additional appointments to try out different looks before the big day. 
'The most important thing when it comes to hair and beauty is to give yourself plenty of time to get everything in tip-top condition,' says Sophie. 'Eat lashings of vitamin rich fruit, vegetables and nuts, oily fish and focus on investing in a great skincare regime and taking time out to relax; then all you will need is a little polish and preening come the big day rather than a drastic make-over.
'Trial make-up looks and artists if you plan to use one a few months in advance: most will charge you for a trial, and whilst it is sometimes tempting to think about learning the skills and application of your chosen look, it's always nice to be pampered and worked on by a pro and really adds to the 'special' feel of the big day.
'As with hairdressing, don't be afraid to take pictures and ask the make-up artist to imitate, but be aware that not all styles suit every face, and the good artists will be able to interpret a look to suit you. A good rule of thumb is to ask for you as you naturally are, just better. '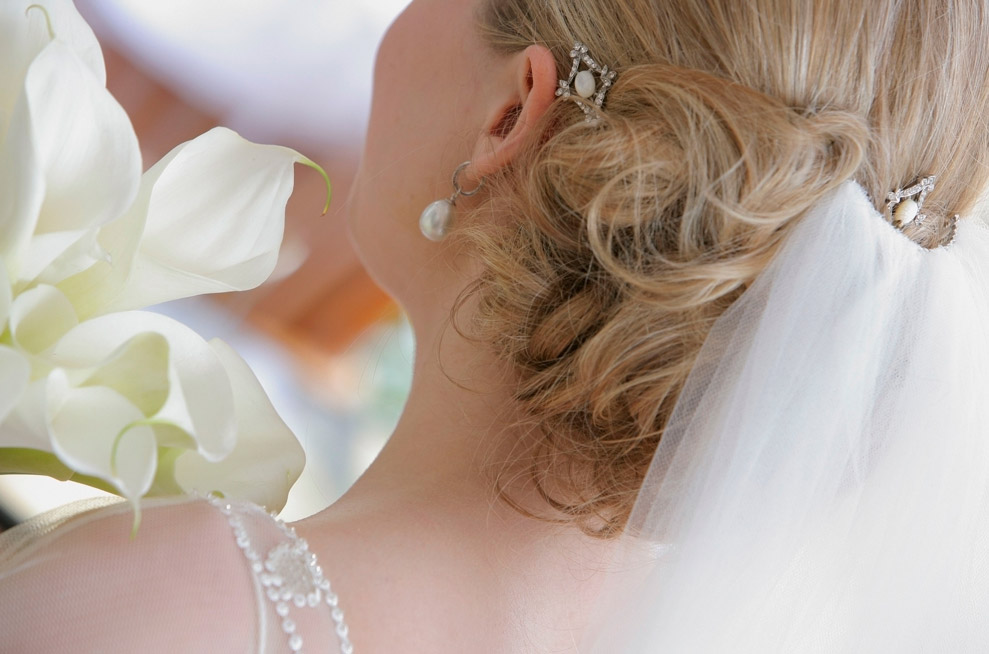 2 Months
Send out wedding invites. 
'Save the dates should be sent nine months to a year in advance if it is a destination wedding or you are asking people from far flung places/a popular time of year such as Christmas or key sports fixture days,' says Sophie.
'Invitations and corresponding details are traditionally sent 6 – 8 weeks in advance, but you can send earlier and should do so if you are hosting a wedding with the above criteria! Try and order both your save the dates and invitations at the same time if possible to reduce printing and freight costs.'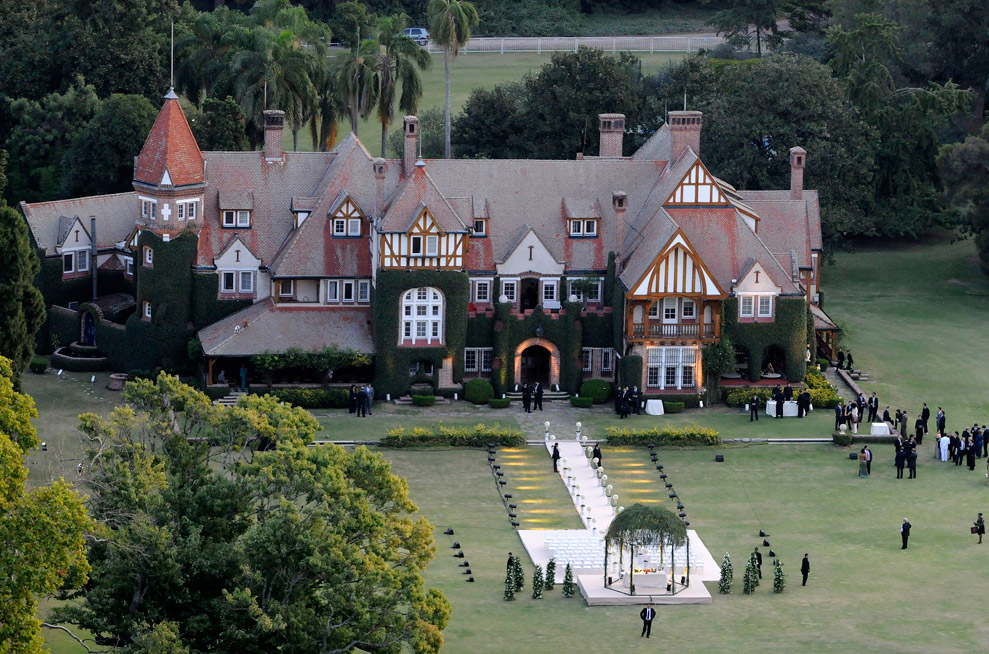 1 Month
Work out your seating plan and let your caterers know the final number of guests. 
'Make sure there is ample space (intimate is lovely, but beware sardine syndrome – the curse of many a bride who fell in love with a venue that couldn't hold the lengthy guest-list),' says Sophie, 'and picture the venue filled with your family and friends as well as a wonderful setting for photos.'
3 Weeks
Get those dancing shoes out… it's hen-night time! Get your wedding licence. 
'If your venue does not hold a full civil ceremony licence, it is best to arrange the ceremony elsewhere and host a blessing or alternative ceremony at your chosen venue,' says Sophie.'Try to avoid applying for a venue to become licenced – the bureaucracy would confound even Moneypenny!'You will need to give notice of marriage at your local council no less than 15 days before your wedding, and no more than a year in advance.'
2 Weeks
Order your honeymoon currency, check tickets and passports and, if you're feeling really organised, pack your suitcases.
1 Week
Collect wedding rings, dress, veil and the groom and groomsmen's outfits. Call the photographer, caterers etc. and confirm everything for the big day.
If you're travelling to your venue? 'Take a survival kit of travel hairdryer, safety pins, paracetamol and aspirin, lip balm and a few home comforts (a picture, scented candle and your favourite blend of tea, for instance),' says Sophie. 'This will help you relax and not feel too alien in the environment.'
1 Day 
Hang up your dress… and breathe
'Take your dress out of its bag and hang it in the shower room the evening beforehand to allow the steam to gently de-crease any inadvertent folds, and let the dress 'breathe' and drop so that you don't have to panic about this in the morning,' says Sophie.
'If you are flying to your wedding venue, it is worthwhile booking your dress its own seat on the plane – don't risk putting it in the hold or cargo, and keep it with you as hang luggage at all times.'
One more thing? Relax. Now that wasn't so hard, was it?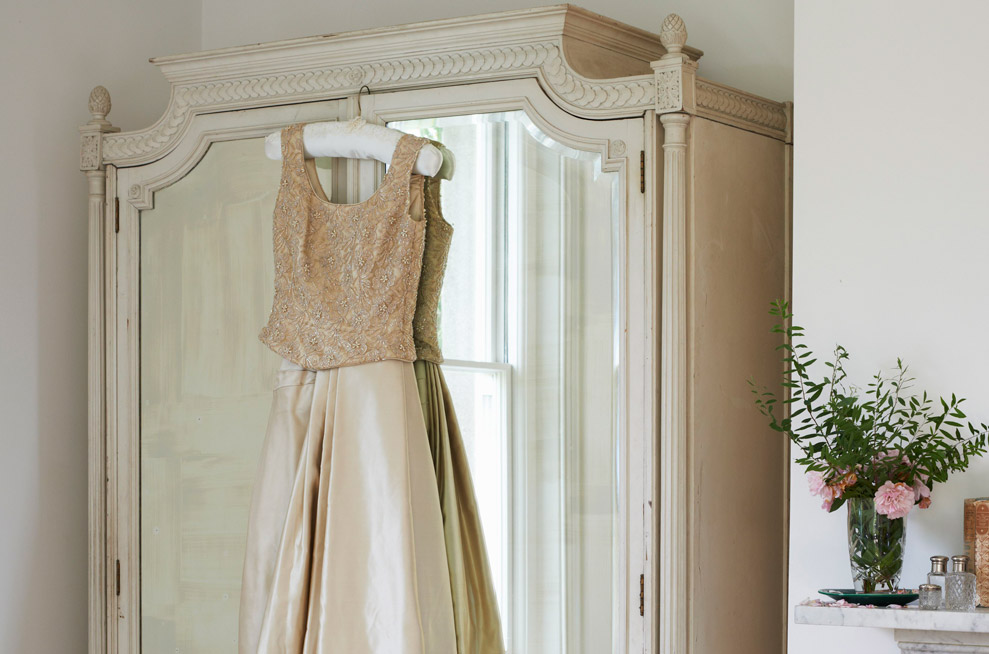 Sophie's final words of advice…
1. Focus on the big things 
Focus on the key areas that you can't imagine your wedding without, and keep your eyes on the prize. If, for instance, it turns out a laid back yet luxurious wedding in the hills of Tuscany with a black tie dress code and a fairy tale frothy gown makes for your ultimate dream wedding, don't be distracted by looking at Roland Mouret frocks and a five tier Red Velvet cake you simply can't get in Italy (trust us, the local option is likely to be far tastier).
2. Forget about fashion
Follow Kate Moss' lead and beware being seduced by trends and fashions unless they really reflect your personal style as a couple: even the queen of rock 'n' roll went for an elegantly understated country wedding.
3. It's all about you!
Don't forget to look after each other and your relationship during the planning whirlwind. Set a date night every week to take you away from the stresses of planning. Equally, do the same with socialising with friends and encouraging him to have some 'boy time' so that you don't lose touch with your normal lives – it really refreshes your planning, too, having some time out.
4. Forgive your inner Bridezilla 
At some point, however hard you try, your inner Bridezilla will rear her head. Know this: it's ok. Just apologise if you upset anyone, blame the wedding madness and reassure your groom you'll go back to normal post-wedding.
For more tips from Sophie McCorry Day, or to order Quintessentially's Secret Wedding guide, visit Quintessentiallyweddings.com.
Read more at http://www.marieclaire.co.uk/blogs/543343/your-12-month-wedding-guide-1.html#piY3kzigWHPHft4e.99